Hey Northwood Timberwolves! The Elective Expo will be taking place when we return from Spring Break.  It will be held for two days: April 11 & 13 at the Oak during Tutorial (10:15 - 10:50 AM).  The Expo will give you the opportunity to explore and ask questions about different classes before choosing what you want to take next year.  You may find classes that we offer that you did not even know we had!  Check out the maps below to see which courses are represented each day!  We hope to see you there!
Image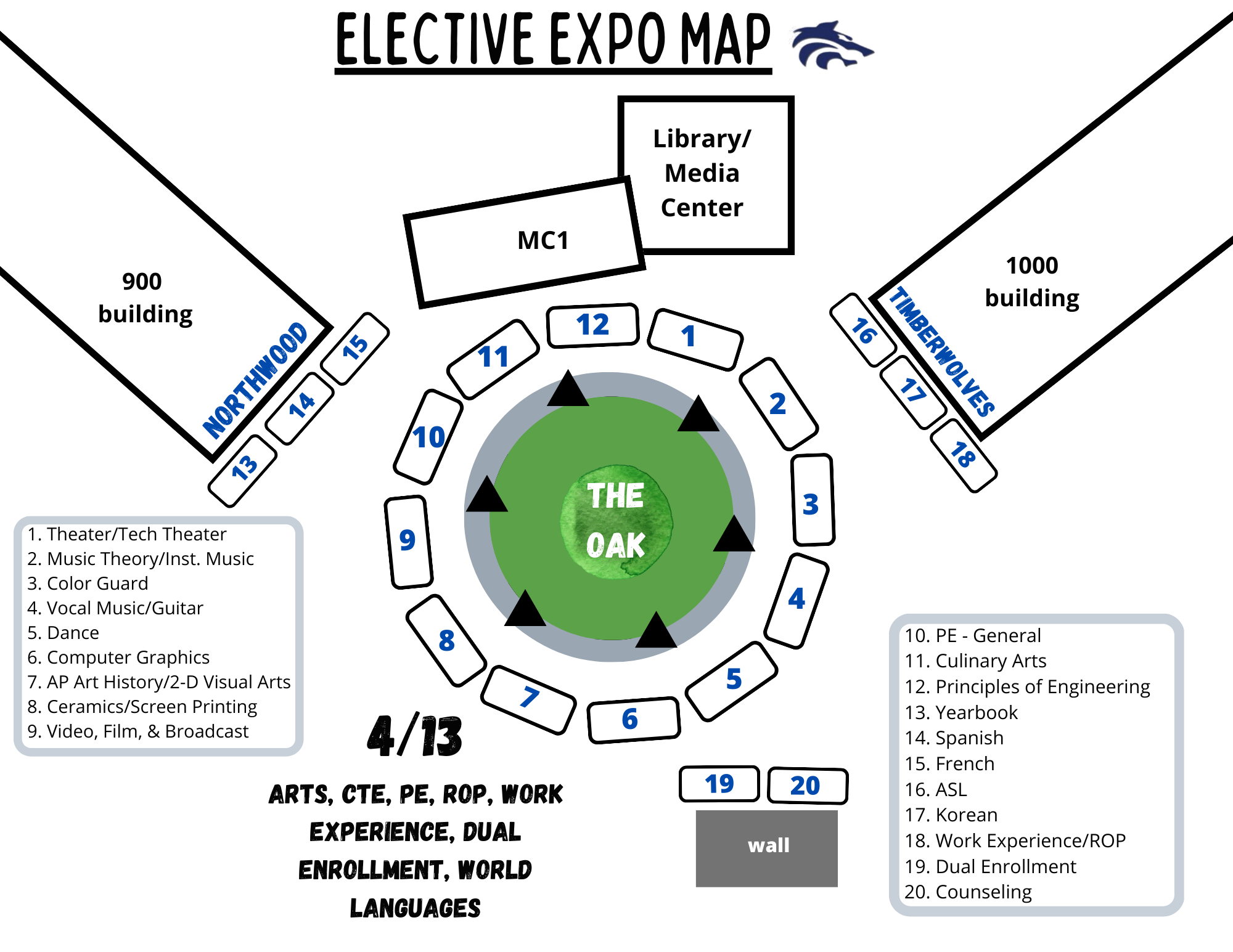 The courses listed below are elective courses to consider.  Please click on the subject area link below to lead you to the department webpage where you will find more information about the elective courses.
Ceramics 

Computer Graphics

Computer Graphics & Design

Intermediate Computer Graphics

Advanced Computer Graphics

3D Design & Animation

Culinary

Dance

Drawing &

Painting

Instrumental

Music  

Band

Color Guard

Guitar

Orchestra

2D Visual Arts

Intro to Art
Drawing & Painting

Maker's Studio

Music Theory

Product Design

Screen Printing

Technical Theater

Theater

Video Film & Broadcast

Visual Imagery

Vocal Music

Yearbook
Business Communication

Creative Writing

Journalism 
force (Forensics core program)
English: Honors Critical Theory & Literature
Social Science: Forensics Psychology
Science: Forensics Science
Math Pathway
AP Computer Science A
AP Precalculus
AP Stats
Calculus
Basketball
Dance (grades 10-12)
Racquet Sports
Weightlifting
Yoga
Geology

Human Anatomy & Physiology

Horticulture

Interdisciplinary Climate Exploration 

Introduction to Engineering

Marine Science

AP Biology

AP Chemistry

AP Computer Science Principles

AP Environmental Science

AP Physics
Anthropology

Economics of Business

Model United Nations (MUN)

Psychology 

World Religions

AP Government/Honors Economics

AP U.S. History

AP World History
American Sign Language

French

Korean

Spanish 

Language, Culture, & Identity
other
Irvine Valley College

Regional Occupational Program (ROP)

Administration of Justice

Automotive Technology

Baking and Pastry Fundamentals

Building Industry Technology Academy

Dental Assistant (Front/Back office)

Emergency Medical Responders

Fire Science

Medical Careers and Health Systems

and more!