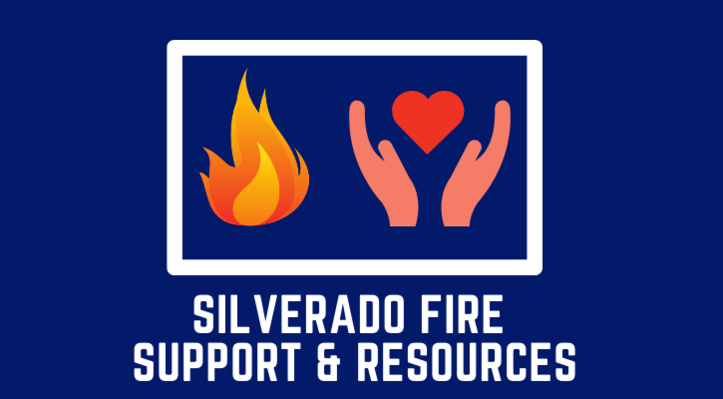 This page has various resources to help families during the Silverado Fire.  Please read below for information on care and reception centers, food distribution, and parenting support.
Due to the mandatory fire evacuation, you may be in need of shelter or resources. Several Care and Reception Centers have been set up for Irvine residents and pets at:
Woodbridge High School: 2 Meadowbrook

Las Lomas Community Center: 10 Federation Way (currently at capacity)

Turtle Rock Community Center: 1 Sunnyhill, 92603

University Community Center: 1 Beech Tree Lane (currently at capacity)

Quail Hill Community Center: 35 Shady Canyon Dr

Los Olivos Community Center: 101 Alfonso (currently at capacity)

Harvard Community Center: 14701 Harvard (currently at capacity)

Rancho Senior Center: 3 Ethel Coplen Way

Voyagers Bible Church: 6000 Irvine Center Drive 949-857-5007

Village Church of Irvine: 77 Post

Mariners Church: 5001 Newport Coast Drive

Newport Coast Community Center, 6401 San Joaquin Hills Rd. Newport Beach, CA 92657
Anyone in the evacuation zone needing medical assistance is advised to call 949.529.4774.  If this is a life threatening emergency, and you or someone you know requires immediate assistance, please call 911 or go to your nearest hospital emergency room.  To connect with emotional support or resources, you can call or text the OC Warm Line at 714.991.6412 or call toll-free at 877.910.9276.
FOOD DISTRIBUTION:
Free produce is available on Monday, November 2.  Please take a look at the flyer for more information:
HOW TO SUPPORT YOUR CHILD: